There are significant opportunities for affordable housing in Victoria, despite the current economic difficulties. Briget O'Callaghan of our Property and Real Estate team caught up with Daniel Burger, Director of Debuilt Property, to discuss this issue.
Anyone reading the daily property news would despair at 2020's bleak outlook.  However, beyond the headlines, there is a sense that things may not be as bad as predicted.  With the 2020-2021 Australian Federal Budget expected to focus on investment and infrastructure, we spoke to Daniel Burger, Director of Debuilt Property, to discuss potential future opportunities for the affordable housing market and the property/construction industries.
Burger's verdict? Now is the time to consider affordable housing as a serious investment. It may hold the key to a quicker and more decisive exit from the current recession.
BOC: The coronavirus pandemic has sped up some underlying economic issues which are now firmly in the spotlight. What specific factors are impacting Australia's housing market?
DB: Melbourne's homeless crisis has significantly worsened over the past decade. Thanks to coronavirus, we will have negligible migration for some time. There will be an increase in business failures, our jobless numbers have spiked, and those in work are likely to spend cautiously.  New housing decisions will be postponed, and young adults will continue to move back home.
BOC: Australia is experiencing low interest rates and decreasing virus infection rates. Does this mean that the impact on the economy won't be as bad as predicted?
DB: Australia's island nation status has been instrumental in combatting the transmission of coronavirus. There appears to be a mood of collective positivity. There is light at the end of the tunnel, although Victoria may have a tougher time resurfacing without adequate Government assistance.
No doubt the Federal Government's Homebuilder stimulus package, as well as other incentives, will play an essential role in economic recovery.
BOC: How can affordable housing help to provide opportunities in the housing market?
DB: It's first necessary to understand what is meant by the term affordable housing.
Usually, affordable housing is housing that's made available to lower-income households. It's affordable relative to their incomes. The cost of affordable housing is generally 30 per cent or less of the total household income. Social housing is typically a subset of affordable housing: government-owned housing, or housing owned by not-for-profit housing associations. One of the most important goals of affordable housing is to ensure that key workers aren't priced out of the neighbourhoods in which they work.  Key workers include teachers, police officers, health workers, childcare workers, and emergency service workers.
There are many funding and delivery models for affordable housing, including partnerships between state government, local government, not-for-profit (often religious or philanthropic based organisations) and the private sector.
BOC: The Government and not-for-profit sectors have played crucial roles in the delivery of social and affordable housing. What other techniques are used?
DB: Inclusionary zones have been used to provide affordable and social housing. Inclusionary zoning requires developers to provide affordable housing in new residential developments. If this isn't possible, developers can make a cash contribution to the relevant local government authority to use for housing.
However, inclusionary zoning hasn't always worked.  The problem is the lack of clarity around affordable housing, mixed implementation policies by councils, and a reluctance by many developers.
BOC: How can we overcome the difficulties with inclusionary zoning?
DB: Opportunities for affordable housing can come from developers' careful planning and a 'salt and pepper' approach. If we target the affordable housing allocation towards key workers with a low to moderate-income, there's a greater chance of overcoming purchaser objections and management issues from registered housing associations.
I think there is also a significant opportunity to increase the supply of dedicated stand-alone projects; especially smaller scale stand-alone housing. This type of housing can still accommodate different socio-economic groups within a community, whilst not necessarily forcing developers to incorporate a broad mix of housing types in one building.
BOC: What are some of the other trends for social and affordable housing?
DB: In 2018, the Victorian Government changed planning laws to smooth the way for councils and developers to provide affordable housing. There are problems, however. Providing a mix of housing types within a development or precinct is desirable, but from a developer's perspective, it can be problematic. Some issues include clarity about final ownership, different socio-economic resident groups, appropriate owner's corporation costs, development returns and possible wariness of purchasers.
BOC: How does coronavirus present an opportunity to improve affordable housing in Victoria?
DB: There's certainly a strong case for sustained Government investment in affordable housing.  The coronavirus pandemic has worsened the availability of affordable housing in Victoria, and so there's now an opportunity to make significant improvements. The bottom line is this: improving affordable housing offerings in Victoria is aligned with the Government providing meaningful stimulus to the construction industry. Let's not let a good crisis go to waste.
BOC: Currently there's increased speculation of more Federal and State Government spending on infrastructure, as well as other stimulus packages. And we're awaiting the 2020-2021 Federal Budget to learn more about the level of Government commitment to affordable housing.  What do you think the government approach should be?
DB: There is a light at the end of the housing tunnel.  Now is the time for both Federal and State Governments to look at different incentive models. It's time to support the affordable housing sector, and let's not forget the industry benefits: immediate construction industry growth, and motivation for developers to invest in the financial and social advantages that flow from this sector. Further funding for not-for-profit registered housing organisations will be critical. The economic and social benefits could be unprecedented, to match the unprecedented times of 2020.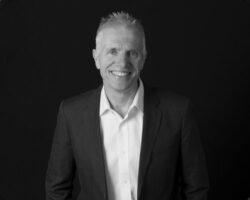 Co-Founder and Director of Debuilt Property
Daniel's background in architecture, construction, project management, development and finance gives him a rare skill set, and a deep understanding of all stages of construction projects. Daniel has a particular interest in how quality-built form can contribute to a cohesive and healthy community. With his commitment to community projects, Daniel is widely regarded as an authority on affordable housing issues in Victoria.
---
Receive all the latest news and insights straight to your inbox
Subscribe